We Got Turkey Trot Signs!
Pre-Order Now and Get FREE Zip Ties or RouteCords!
Order 3 or more 5-Packs, and we'll refund your standard shipping.
Pre-Orders ship in Early Oct - Supplies are Limited!
Helping Us, Helping You
When you tell other event organizers about RouteArrows.com, that's a huge help to us.
And we want to thank you by giving you and your friends 20% Off!
See our 2023 referral program HERE.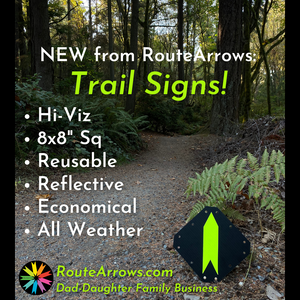 Our NEW Trail Signs - Hit the Ground Running!
We had an amazing time launching our newest product: Trail Signs at the @ustrailconference 2022!
The amount of positive feedback from race directors from across the US was truly wonderful.
We're looking forward to supporting the warm, welcoming and forward thinking trail running community by providing reusable easy to use signage!
They are small but they are mighty!
Check the colorful reflective and non-reflective options HERE!
A Dad-Daughter Duo
We're the team behind RouteArrows, we're both inventer / entrepreneurs and we share a birthday!
We love cycling, hiking, camping and just being outdoors.
Working together isn't always easy but it sure is a privilage and well worth it 💚
Partial Rolls: An Economical Option!
You Asked, We Listened.
These rolls of 50 RouteArrows are great for shorter route / fewer turn events.
Give Directions at Your 5Ks, 10Ks, Family Fun Runs, and More!
Partial rolls can also be used with our redesigned Blank Signs, for a versatile, reusable route marking option.
Testimonials
"Arrows have arrived. They shall be packed in my suitcase as I head to India for a 3 week bike trip. Our trip coordinator has used these arrows in running and cycling events and was in need of more. Thanks for your useful product."

Kate G. in Oregon
"RouteArrows worked perfectly and made it much easier for the kids to navigate through the course, not to mention how easy it was to set up and remove if needed."

Nigel H. in Oregon
"I have received a lot of compliments specifically about the route marking on the Sequoia. People found it very easy to follow the route. Thanks again."

Judy in California
"I have had to order yet another 10 rolls of your fine product."

Lake A. in New York
"Great product, inexpensive, visible and easy to manage! Thank you."

Tim A. in Texas
Subscribe to our Newsletter
Promotions, new products and sales. Directly to your inbox.