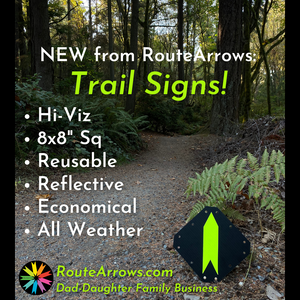 Our NEW Trail Signs - Hit the Ground Running!
We had an amazing time launching our newest product: Trail Signs at the @ustrailconference 2022!
The amount of positive feedback from race directors from across the US was truly wonderful.
We're looking forward to supporting the warm, welcoming and forward thinking trail running community by providing reusable easy to use signage!
They are small but they are mighty!
Check the colorful reflective and non-reflective options HERE!
A Dad-Daughter Duo
We're the team behind RouteArrows, we're both inventer / entrepreneurs and we share a birthday!
We love cycling, hiking, camping and just being outdoors.
Working together isn't always easy but it sure is a privilage and well worth it 💚
Partial Rolls: An Economical Option!
You Asked, We Listened.
These rolls of 50 RouteArrows are great for shorter route / fewer turn events.
Give Directions at Your 5Ks, 10Ks, Family Fun Runs, and More!
Partial rolls can also be used with our redesigned Blank Signs, for a versatile, reusable route marking option.
Our RouteArrows are Paper Arrow Stickers with a Strong Adhesive.
- RouteArrows are eco-friendly and economical, designed to give clear and obvious directions.
- Originally invented in 2005 to mark cycling event routes.
- Running and walking events really love RouteArrows too.
- Now they're used in every state and around the world!
- Available in 10 bright attention grabbing colors!
- Each RouteArrow is 3" x 11.9" tip to tail.
- Sold in both Full Rolls of ~250 arrows and Partial Rolls of ~50 arrows.
RouteArrows Colors Match RouteBands
Our Original Product: RouteArrows!
RouteArrows.com is about one thing: Enhancing the quality of cycling and running events by providing easy-to-use route marking tools.
Our brightly colored RouteArrows are used for hundreds of different cycling and running events in the USA and around the world.
Use RouteArrows to quickly and easily provide visual guidance at events and for COVID protocol.
Eco-Friendly | High Visibility | Temporary | Peel-n-Stick Paper
RouteBands: Color Matched to RouteArrows!
RouteBands are 1″ wide Tyvek® synthetic paper wristbands.
They are color matched (as close as possible!) to the nine bright RouteArrows colors!
- Strong, durable, and comfortable 
- Waterproof adhesive and sizable to fit
- Secure, tamper resistant, die cut adhesive tab
- Tyvek® is a 100% code two, recyclable material
- Upholds writing with permanent marker if needed
RouteLines and Blank Signs
CLEARANCE SALE on RouteLines: Great for Start / Finish Lines, Hazard Marking, Queues, and Making Large Arrows!
- RouteLines are a Continuous, Un-Cut Roll, 3″ Wide x 195′ Long!
- Backing paper is center-line cut for easy separation from adhesive orange front paper.
- Great for anywhere you need high visibility temporary pavement marking without the hassles of paint!
- Eco-Friendly: paper printed with water based inks!
- Easy to apply, temporary & removable!
- Available in the same hi-viz orange adhesive paper material as RouteArrows!
NEW Blank Signs: Great for using RouteArrows at Key Intersections, in Wet Conditions, and Unpaved Events!
Available in Square: 12″ x 12″ inches
- Come in Packs of 5 Signs + 14 Reusable Zip Ties
- Signs are durable 4mm thick Black Coroplast plastic
- Reusable year after year!
Use RouteArrows on Blank Signs:
- at route splits and junctions
- in triathlon transition zones
- on gravel rides or trails runs
- or any events with unpaved routes!
Testimonials
"Arrows have arrived. They shall be packed in my suitcase as I head to India for a 3 week bike trip. Our trip coordinator has used these arrows in running and cycling events and was in need of more. Thanks for your useful product."

Kate G. in Oregon
"RouteArrows worked perfectly and made it much easier for the kids to navigate through the course, not to mention how easy it was to set up and remove if needed."

Nigel H. in Oregon
"I have received a lot of compliments specifically about the route marking on the Sequoia. People found it very easy to follow the route. Thanks again."

Judy in California
"I have had to order yet another 10 rolls of your fine product."

Lake A. in New York
"Great product, inexpensive, visible and easy to manage! Thank you."

Tim A. in Texas
Subscribe to our Newsletter
Promotions, new products and sales. Directly to your inbox.